Have you ever been surrounded by wild animals while you are driving a car? Most safari experiences could be passive as guests just sit in a land cruiser with a tour guide and driver. Etosha National Park provides an active and comprehensive experience, totally opposite of such passive safari tours. You drive a car in the National Park of 8,600 sq miles all on your own!
Moving to Etosha National Park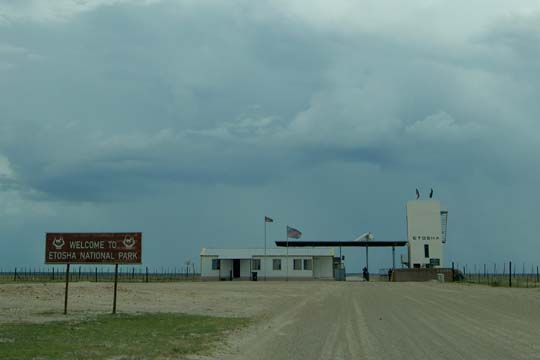 King Nehale Iya Mpingana Gate, North of Etosha
On December 18, 2016, we stayed in the hotel lobby until 2pm due to the exhaustion from overnight long-distance bus and long driving in the previous day. After the good rest, we got on the road and headed to Etosha National Park.
Even before passing the gate of the Park, we saw groups of cows, goats, wild pigs as well as zebras and impalas. Around 4:30pm, we arrived at King Nehale Iya Mpingana, the north gate of the National Park. While approaching the gate, there were no other cars around. The security guards were pretty nice and the security check went smoothly.
Totally we spent 2 days in Etosha National Park, from the evening on December 18 to the afternoon on December 20.
Evening Safari (12/18/2016)
After passing the gate, we ran into a wide range of savanna where a group of big cows just walked toward us. Although they were not wild animals, it was a bit thrilling because of their sizes. After the wide range of savanna, the drive route led us into a forest area. The weather got cloudy and drizzling but did not discourage any of our excitements for coming exposure to the nature and wild animals. In our view with excitements, such bad weather even appeared interesting because of its unique sky color.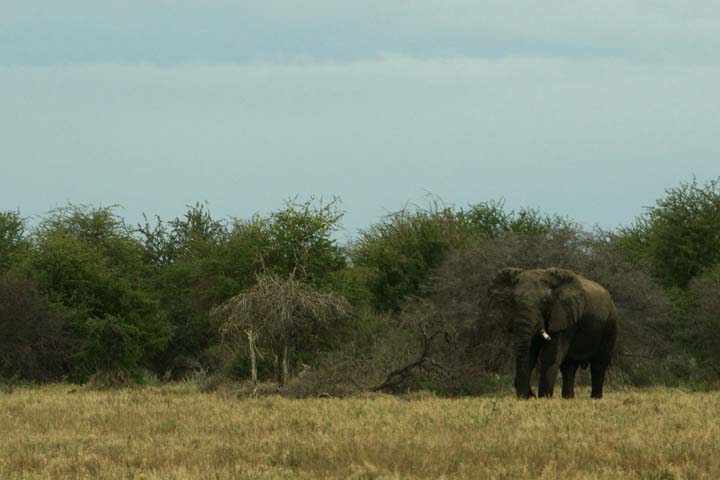 African Savanna Elephant
As approaching to the forest, we saw a large elephant eating tree leaves at the edge of the forest. Althuogh there was quite a distance between the elephant and the car route, it was obvious that the elephant was much (at least 1.5 times) bigger than the elephants we saw in Lonango National Park in Gabon. The elephants in Etosha are African Savanna Elephants (or known as African Bush Elephants) while the ones in Gabon were known as African Forest Elephants.
After enjoying the time of the first contact with the African savanna elephant, we moved back on the road and saw one car running on the opposite lane. The driver of the car was a park ranger and told us that there was a female lion nearby. Although we could not find her, our hearts did beat faster as we realized we were surrounded by such big wild animals.
It took us about 3 hours to drive from the northern gate to Halali campsite, where we reserved a spot online. During the 3 hours, we were so amazed by the amount of animals and many of the wild animals were really close to our car. Some of them were even in the distance of our arms.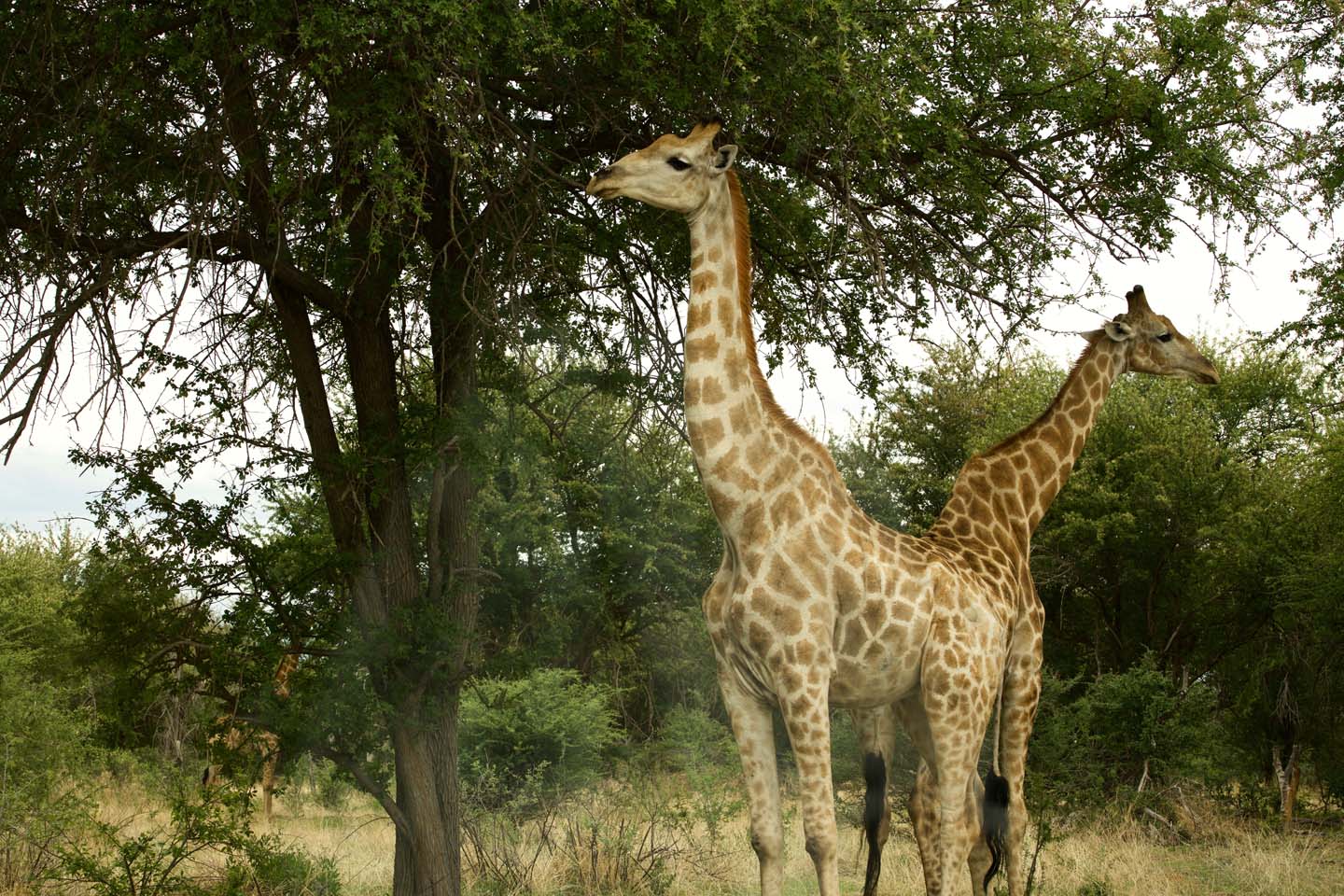 Giraffes
Gnu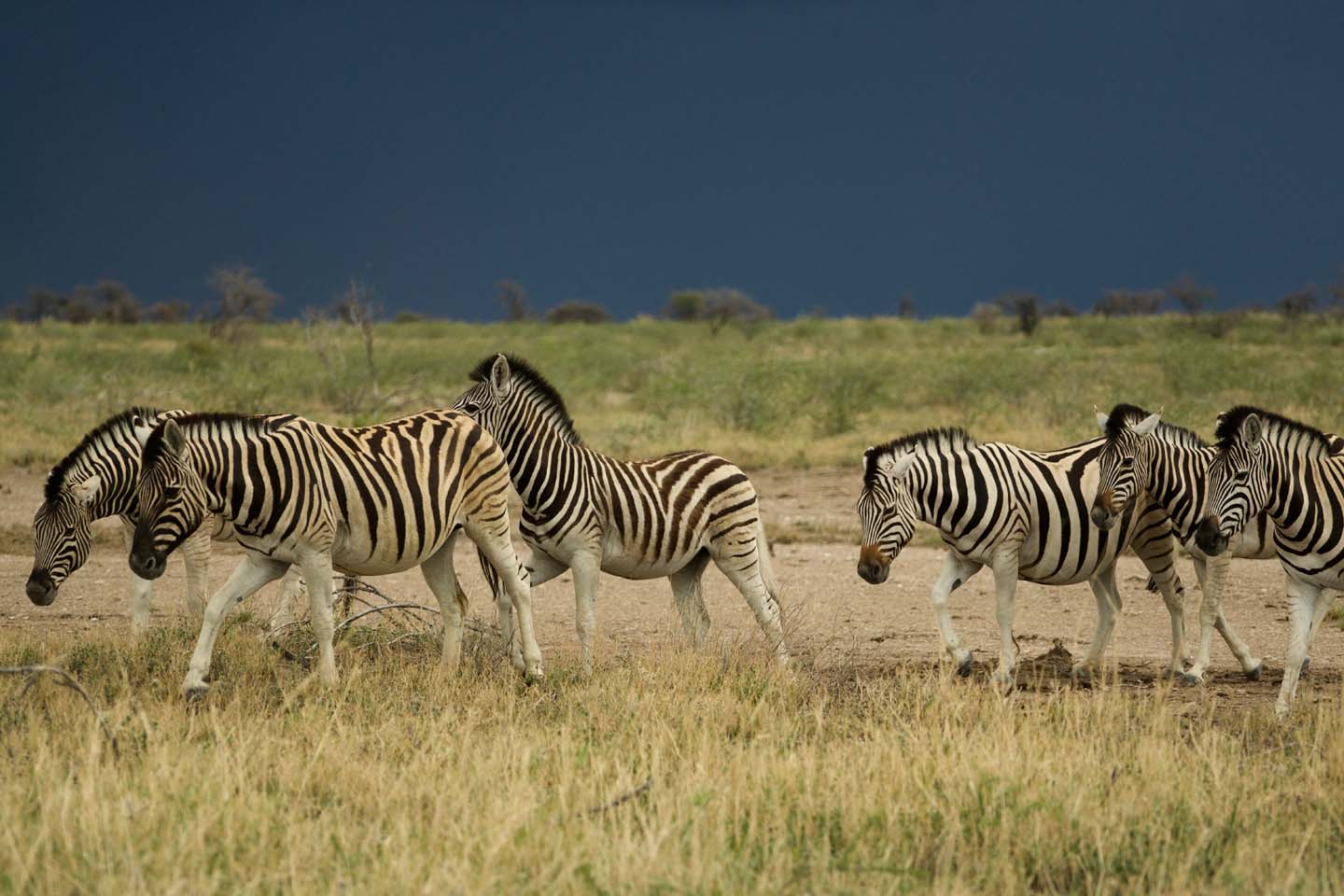 Zebras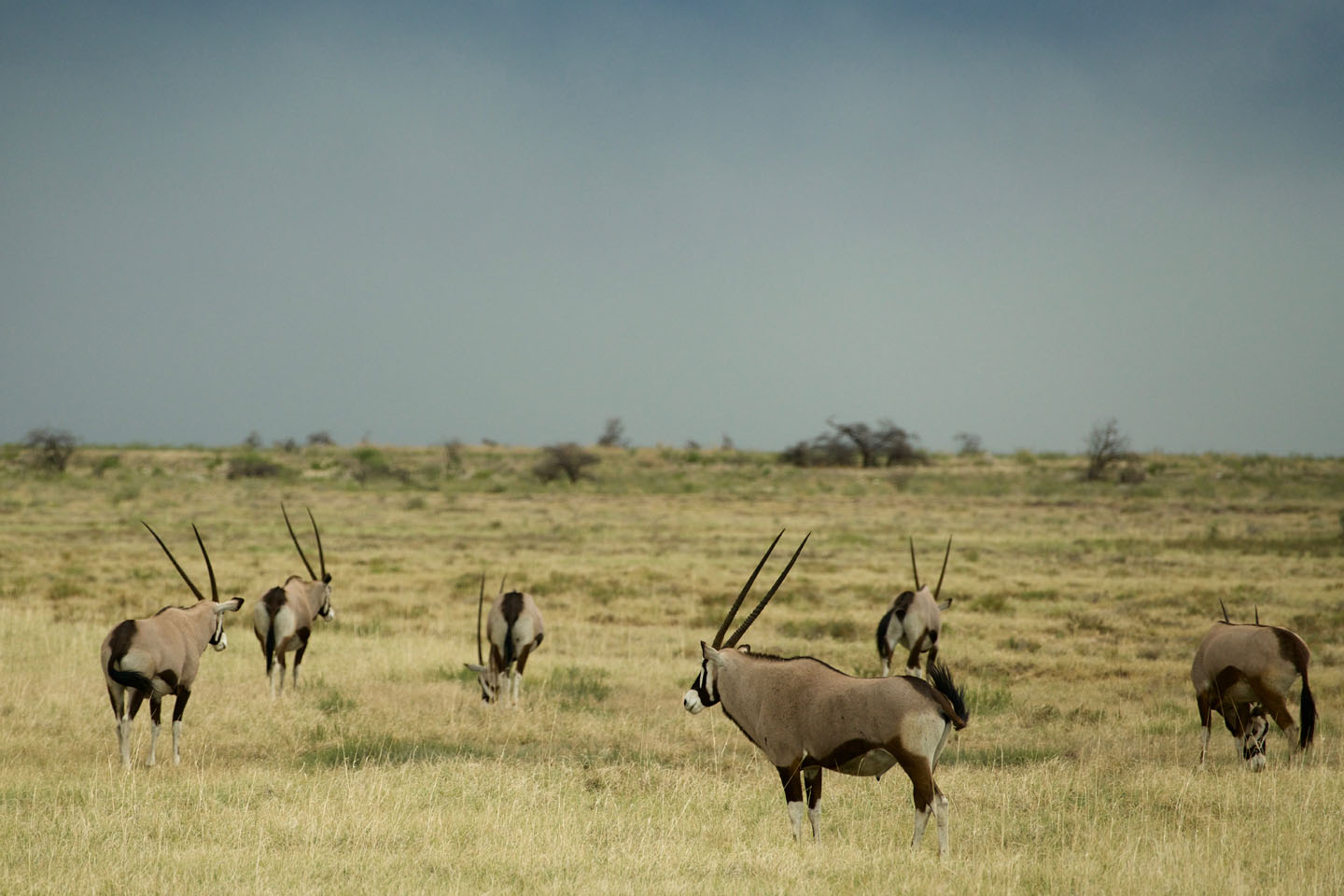 Oryxes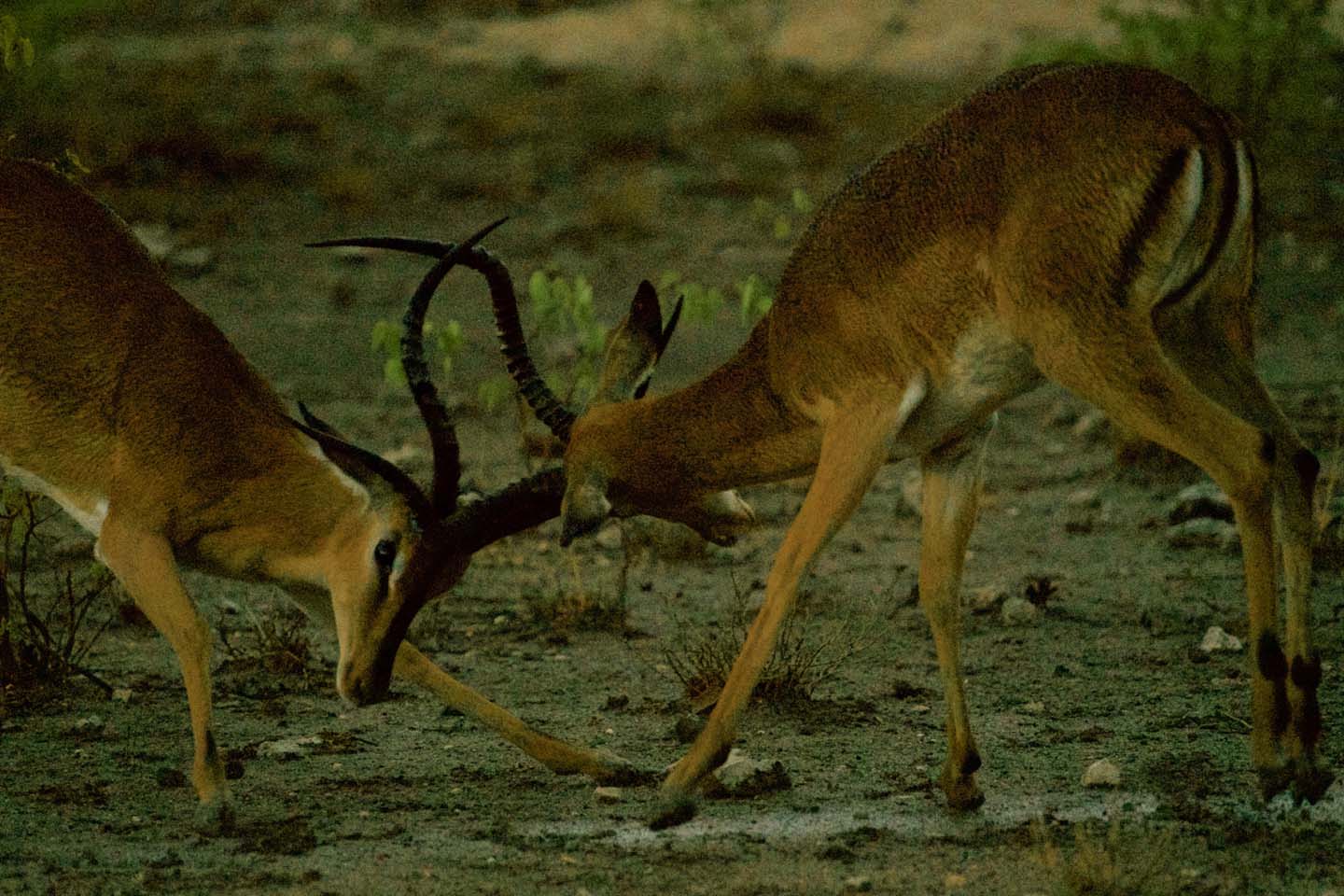 Fighting impalas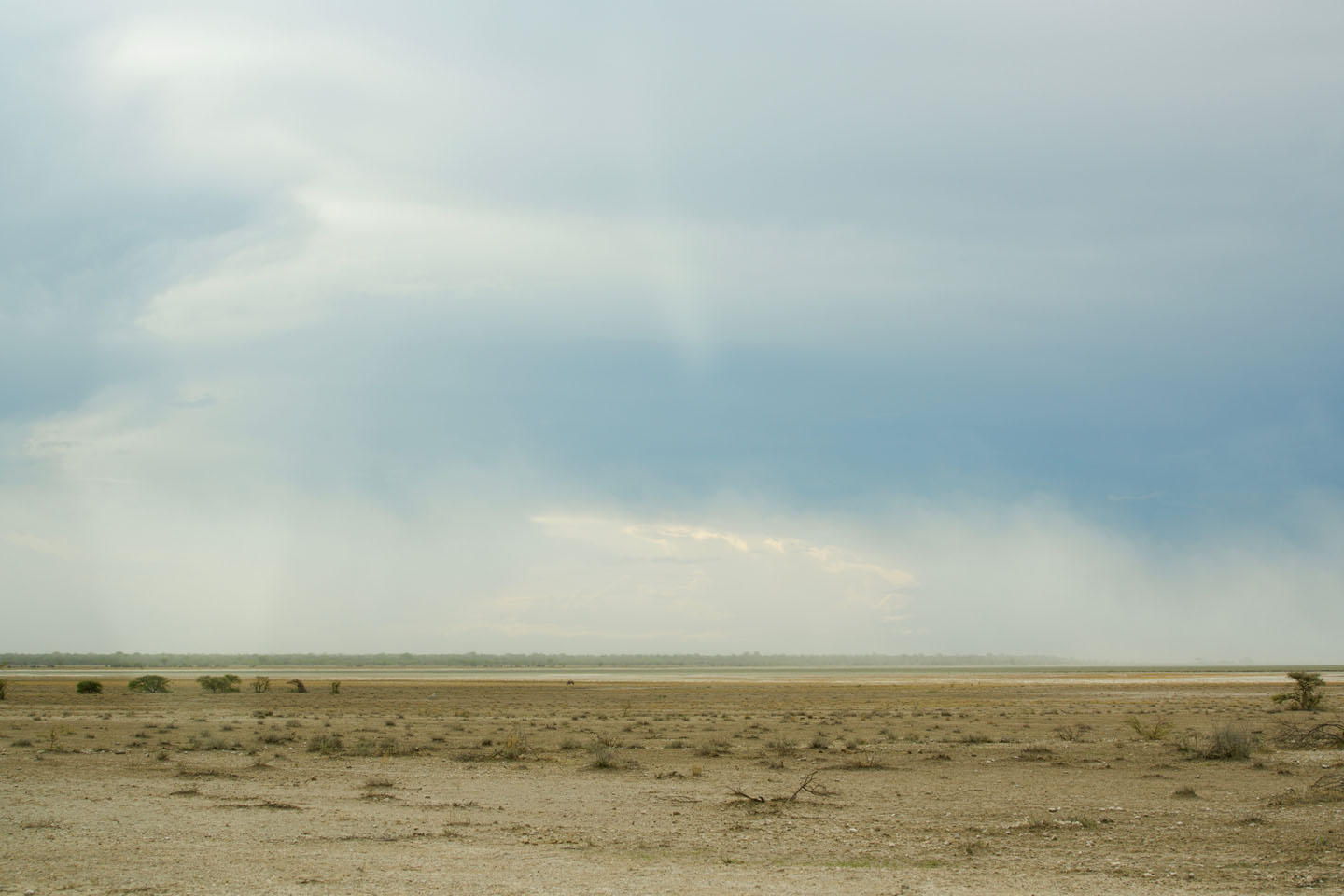 Savanna of Etosha National Park
The following is the list of wild animals we saw in the first evening.
hundreds of zebras everywhere

*you will soon lose an interest in zebras in Etosha National Park.

a big elephant
a descent amount of giraffes walking around the car routes

*our car was surrounded by giraffes several times

several kudus crossing the drive route
a number of gnu groups everywhere *gnus occasionally stared at us while passing by in front of our car.
a group of oryxes on an open field
Countless of impalas, and two young males were fighting with their antlers
After the exciting first self-drive safari, we arrived at the Halali Resort (campsite) at 7:30pm. The gate was closed but a campsite staff opened up the gate for us. At the check-in at the reception, the receptionist informed us that there was no assigned spot for camping and we could set up our tent at any open spots from the 58 spots in the campsite. We picked the spot #9, close to most of the facilities such as a cooking stove, a set of table and chairs as well as the shower and bathroom.
It was raining and dark already when we arrived at the campsite, so we just had dinner at the campsite restaurant instead of cooking by ourselves. There were other travelers including a few families having food as well. The restaurant offered a steak of impala, so we could enjoy the impala with both our eyes and stomachs.
After dinner, we decided to sleep in the car in case of heavy raining since our tent was not water-proofed.
Full-day Safari (12/19/2016)
Around 6:30am, more than half of the people staying at the campsite were already gone, and we also started our full day self-drive safari in the southern area of the Park. Comparing to the north side where we drove around yesterday, the south side had mostly savanna with wide open fields.
It was a sunny day, and the temperature was 23℃ in the morning, which was nice and comfortable. In the morning safari, we drove around the savanna area and small forest area within 1-hour range from Halali campsite. We constantly saw a hundreds of zebras, gnus, and impalas as yesterday. On top of those unsurprising animals, we also saw two jackals and a decent amount of giraffes. Also, we were told by a couple that there was a leopard family but we did not find them.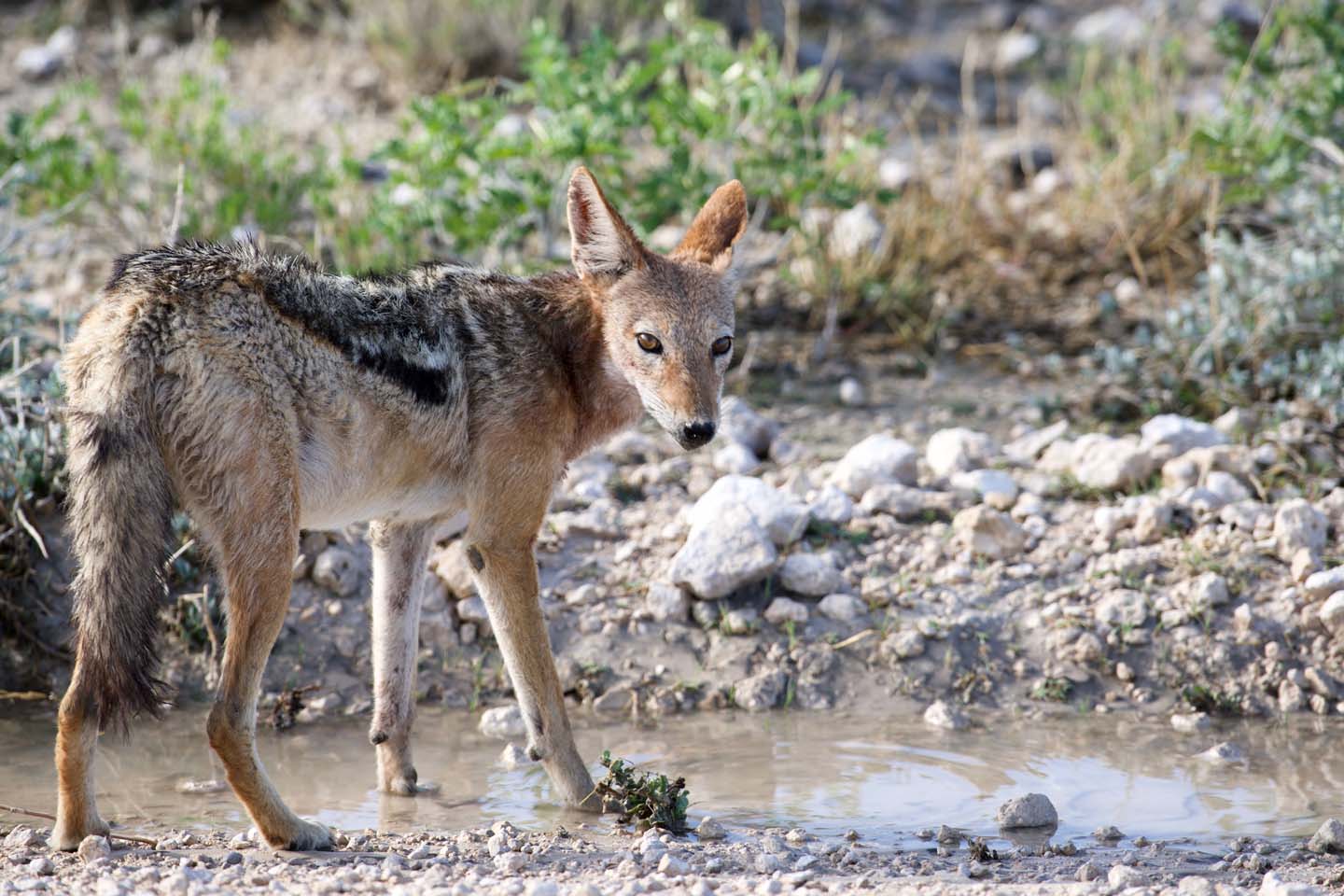 Jackal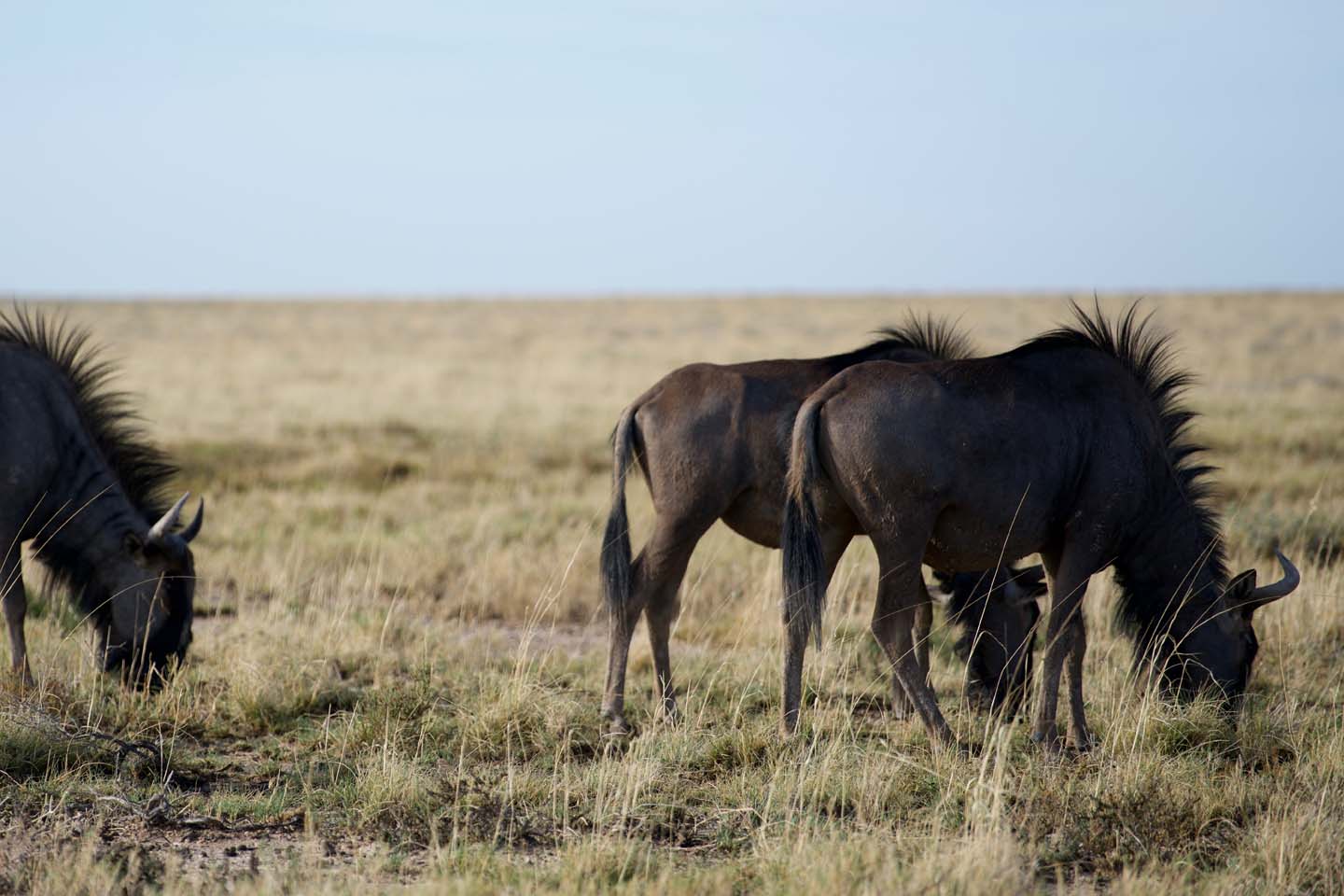 Gnu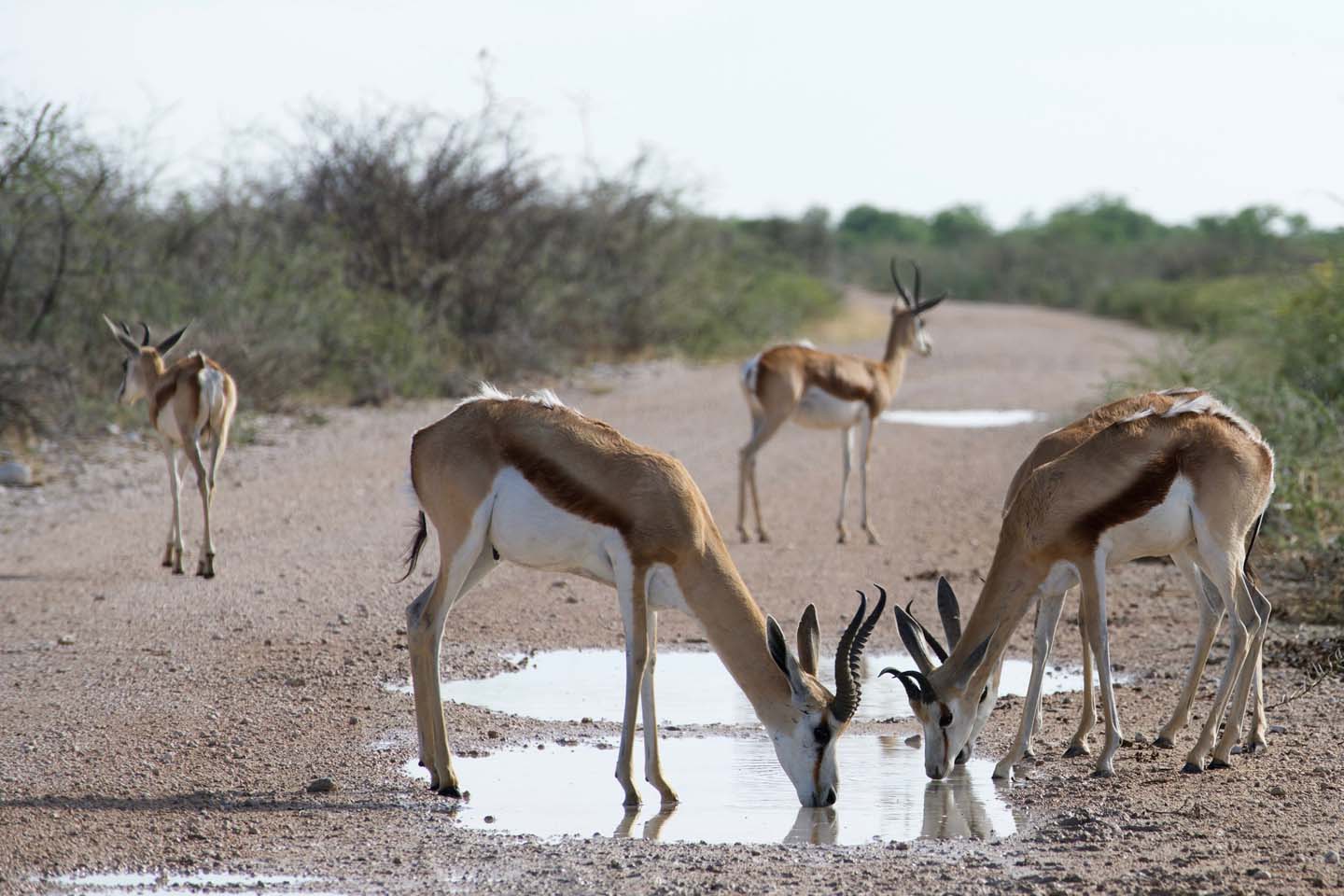 Impalas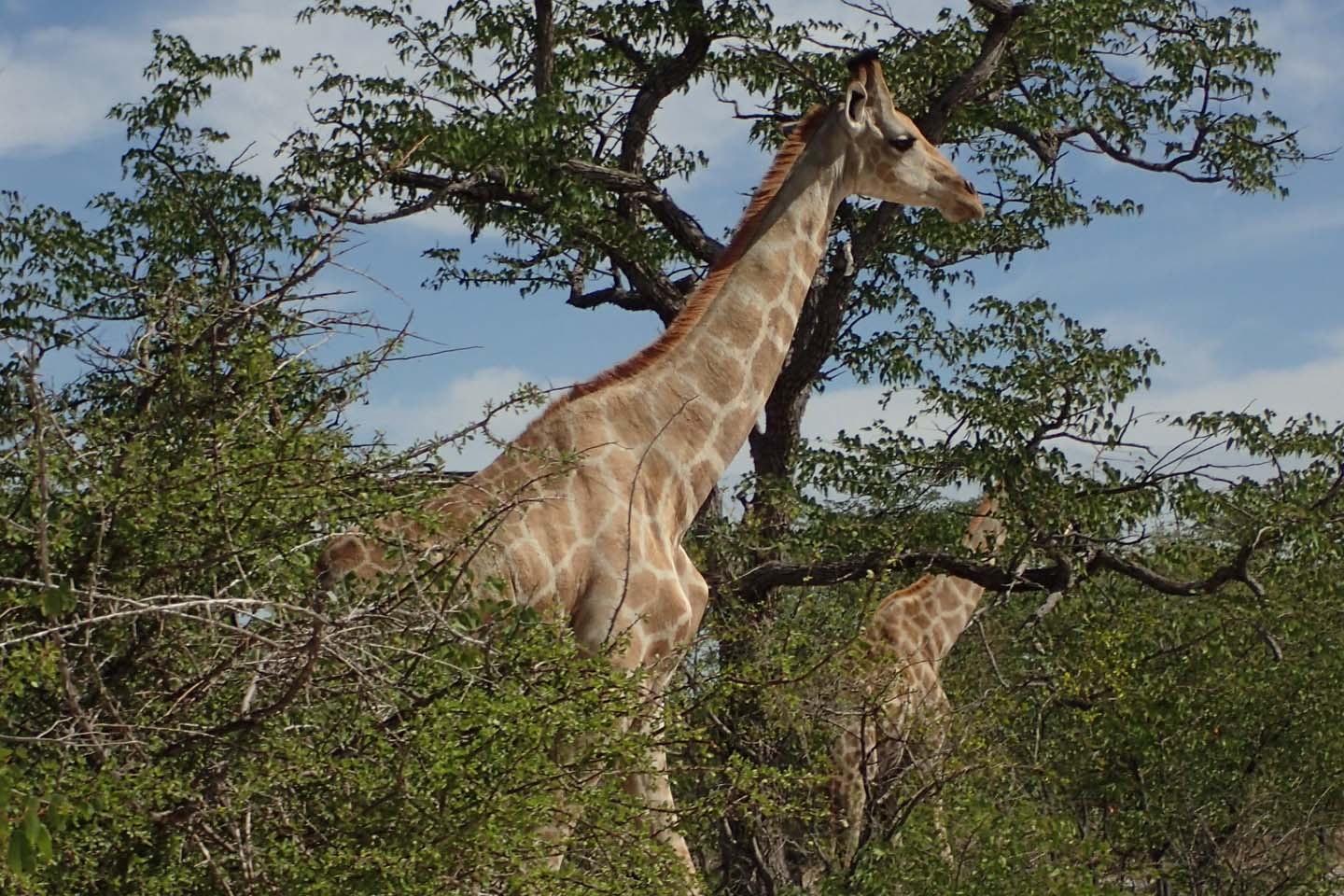 Giraffes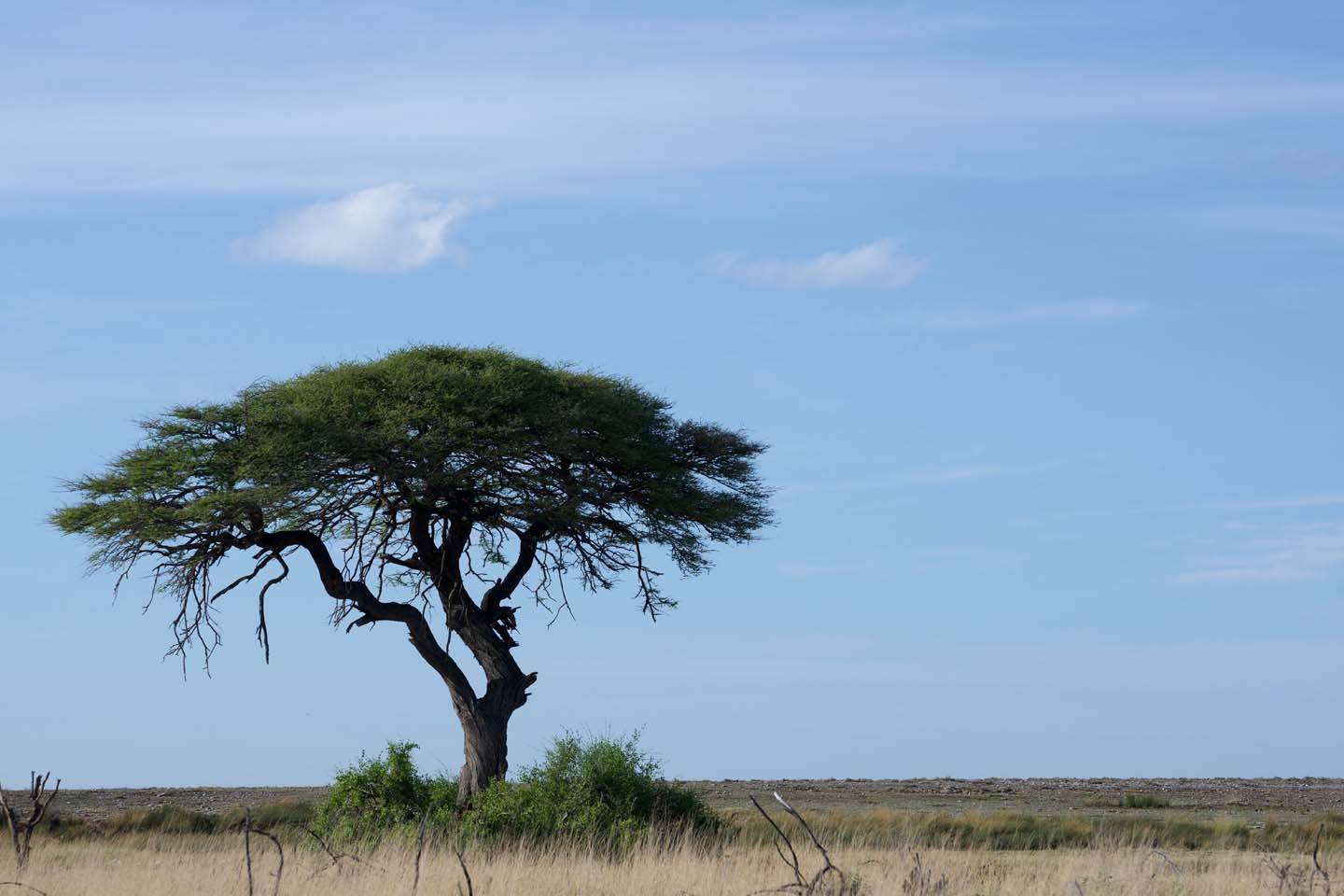 Savanna of Etosha National Park
At noon time, the outside temperature was more than 30℃ and there were much less animals than in the early morning. So we headed back to the campsite to have a quick lunch.
We bought matches and woods from a shop in the campsite to make fire for cooking. Due to the high temperature and fire, we were all sweaty by the time we finished our pasta lunch. Even though the temperature was still high and there were less chances to see animals, we decided to head back on afternoon safari after a shower.
Around 2pm, the temperature was still over 30℃ and even the number of zebras and gnus were less. More animals were under the shadows of trees and hiding from the blazing sun.
Passing 4pm, the temperature started decreasing gradually and we started seeing more animals moving actively in savanna. In addition to the animals mentioned above, we saw ostriches and even rhinos!!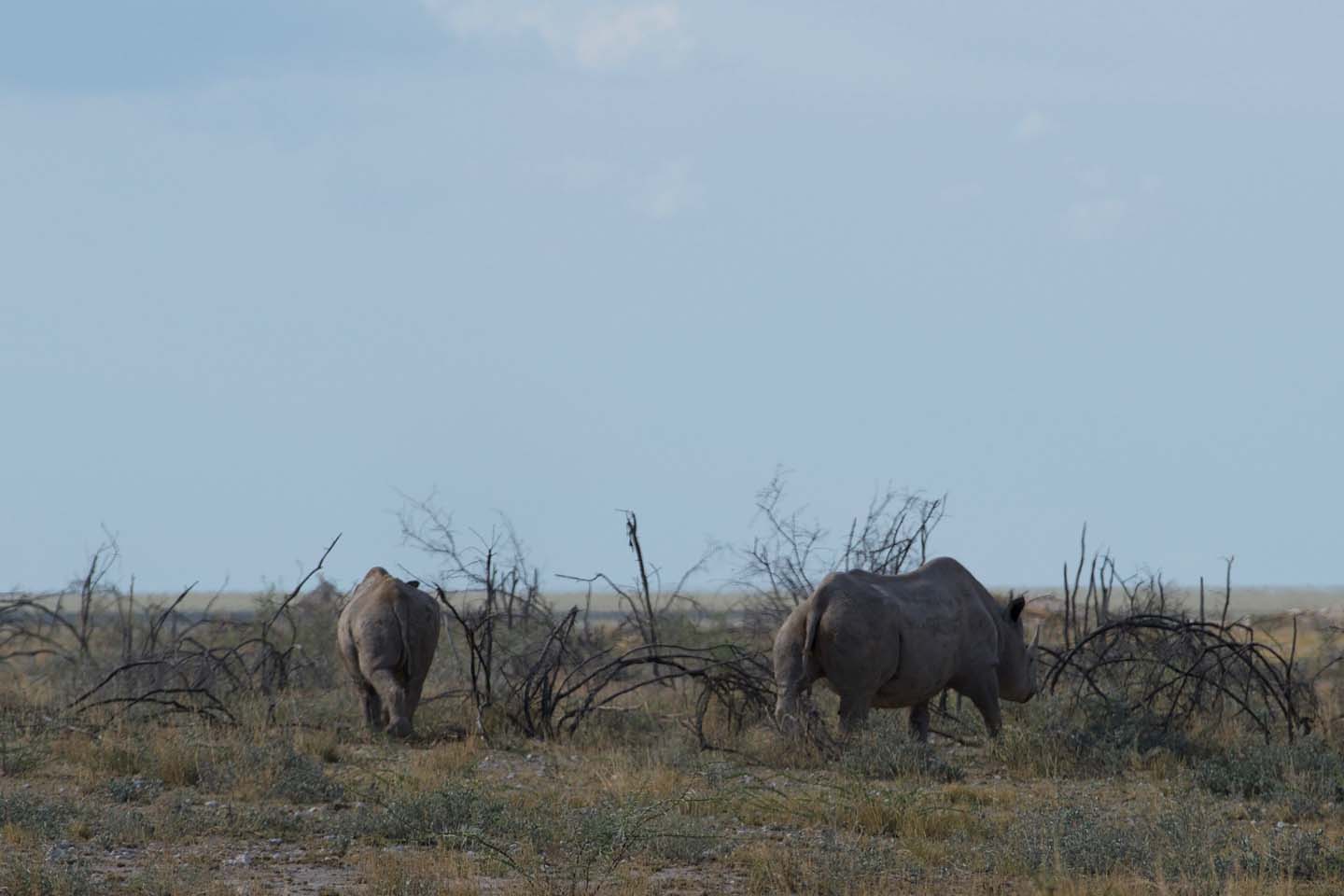 A parent and child of rhinos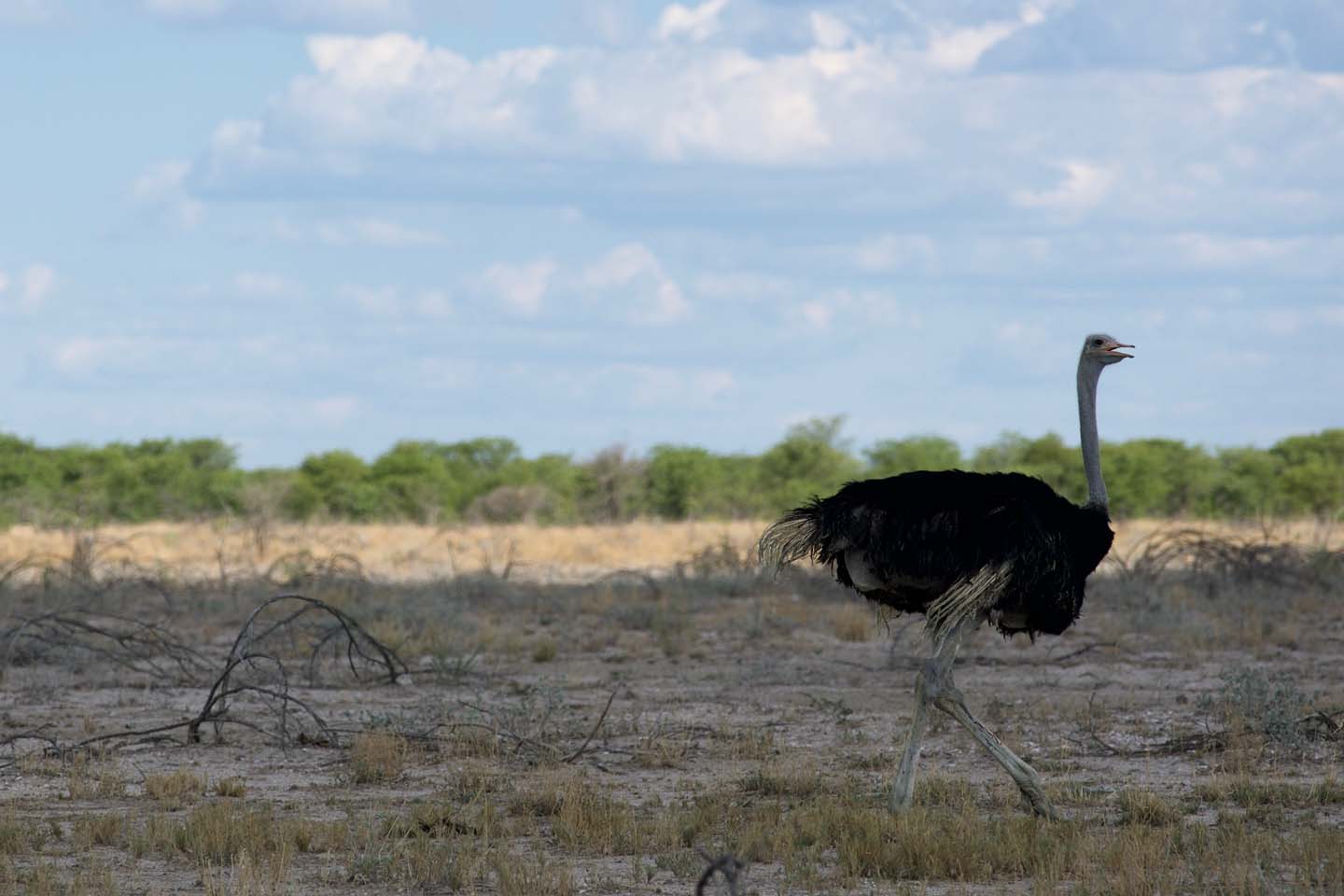 Ostrich
Later afternoon, we decided to move to the northern area of the park, which was at least 2-hour drive away from Halali campsite, because we felt that within the forests there are more chances to see more bigger animals than in the south. Since we had to go back to the campsite before sunset (around 6:30) to make dinner, we decided to drive up to north as much as possible for 1 hour. We had not seen much in one hour while heading north and it was about time to drive back to the campsite. Literally when we were about to head back, we saw two huge butts with muscles. They were a parent and child of rhinos walking in savanna to find food and water. We enjoyed our time with rhinos for more than half an hour and headed back to the campsite to make another pasta for dinner by 7pm.
Below is the summary of wild animals we observed during our full-day self-drive safari:
two jackals at different spots in savanna
hundreds of gnus
hundreds of zebras
hundreds of impalas
a few giraffes surrounding the car route
a group of impalas in a bush
a big white bird with a thick neck
three ostriches
a blue crane
two white rhinos walking in savanna
After dinner, we walked to see a waterhole, where wild animals came to drink water in dry season, next to the campsite. It was chilly and we saw no animals because it was wet season. However, the waterhole was much darker than the campsite and we saw a lot of stars in the sky. We reassured that we were in the middle of full nature and Etosha was not only for wild animals but also for beautiful landscapes that we could see only in African continent.
Morning Safari (12/20/2016)
By 7am, we were fully ready for our last self-drive safari. Perhaps because we left a little bit late, there were less wildlife than the prior two days. HOWEVER, we did see several animals that didn't appear last two days!
Since we planned to exit the park at Anderson's gate which was in south west of the park, we headed west in the early morning. As we drove west, the land got dryer and much less green even in the wet season. Although we saw hundreds of zebras, gnus, and impalas in the past two days, it was little sad not seeing them much while driving to the west.
While passing a small bush area, a surprise suddenly came to us. A white rhino with a great horn was in a forest and staring at us. Although the rhino walked away quicky, we had a chance to see a rhino face to face for a minute. Another surprise came after as we saw another rhino eating glasses in a bush. This rhino did not have a horn and we later learned that the park rangers cut horns of some rhinos to protect them from illegal hunters killing rhinos for horns.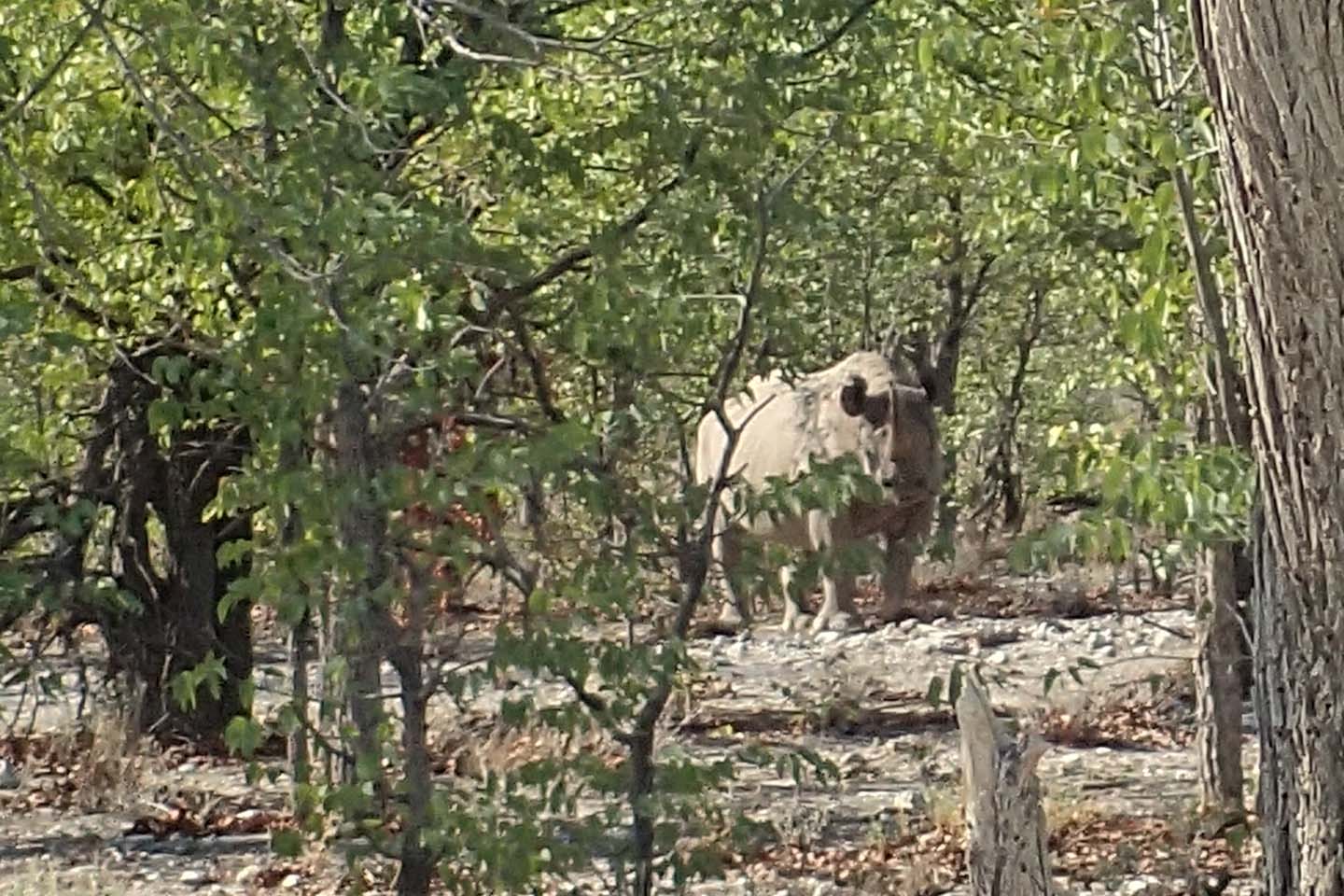 Rhino with horn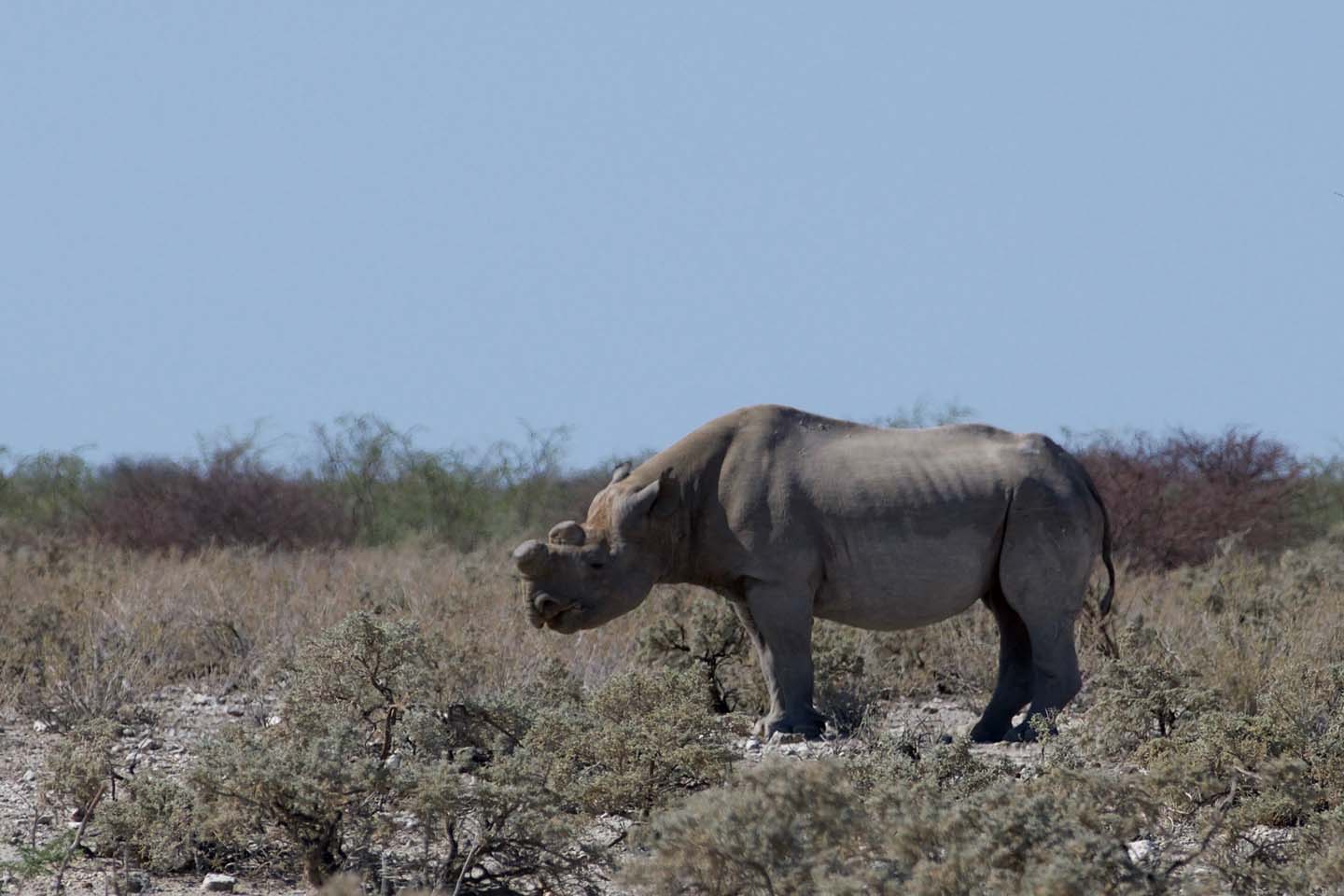 Rhino without horn
We arrived at Okaukuejo campsite around 11am and decided to explore more west because we still had some time until moving to our next destination. The west area of Okaukuejo looked completely different from the areas we explored in the past two days. There were much less green and mostly just dry lands. In the area, we saw several squirrels making a hole in the dry land and a giraffe skeleton with skin. Due to the view of the dry land and skeleton, we felt the toughness of living in the wild. During the 1-hour drive in the west area, we also saw a few ostriches, giraffes, oryxes, and so forth.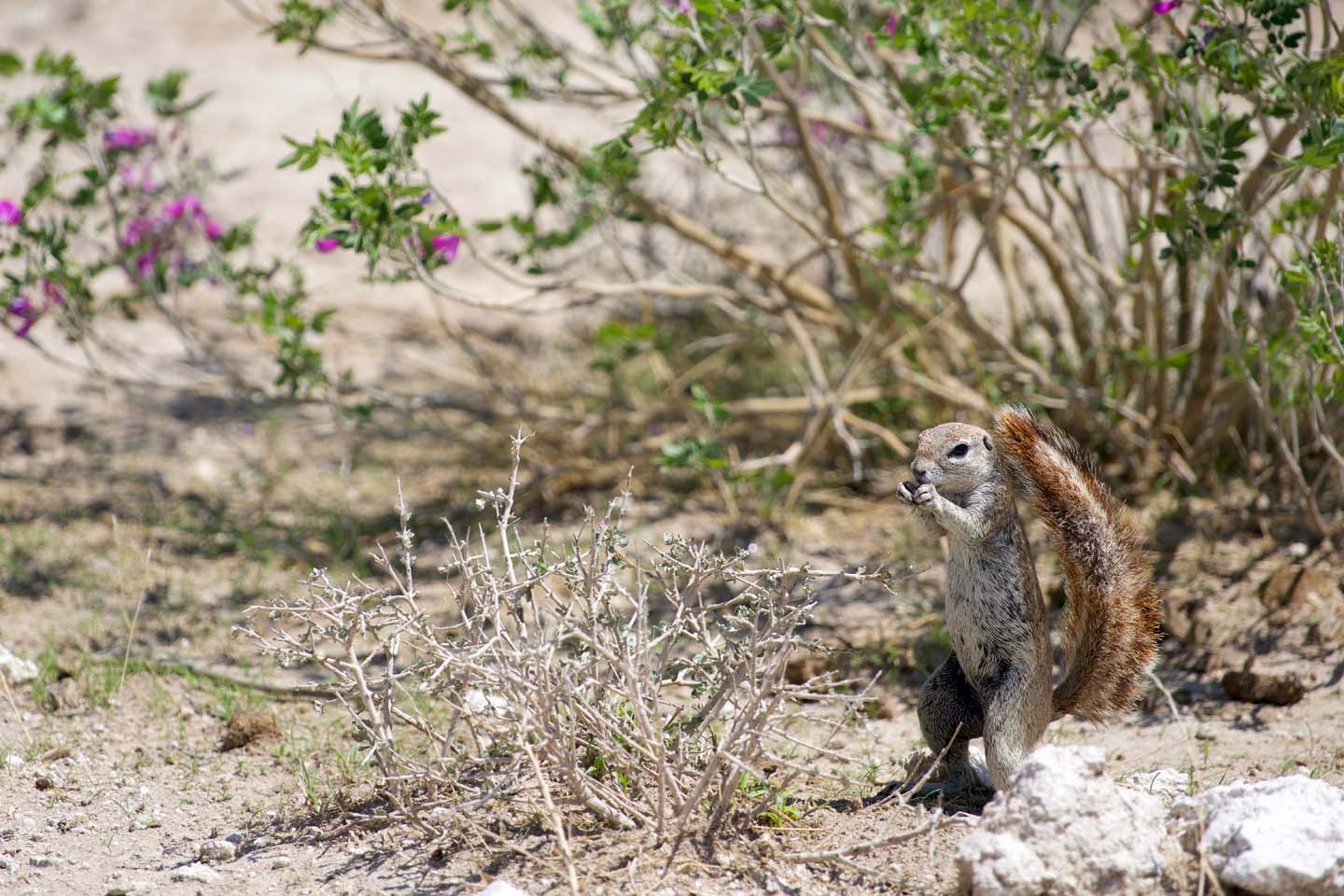 Squirrel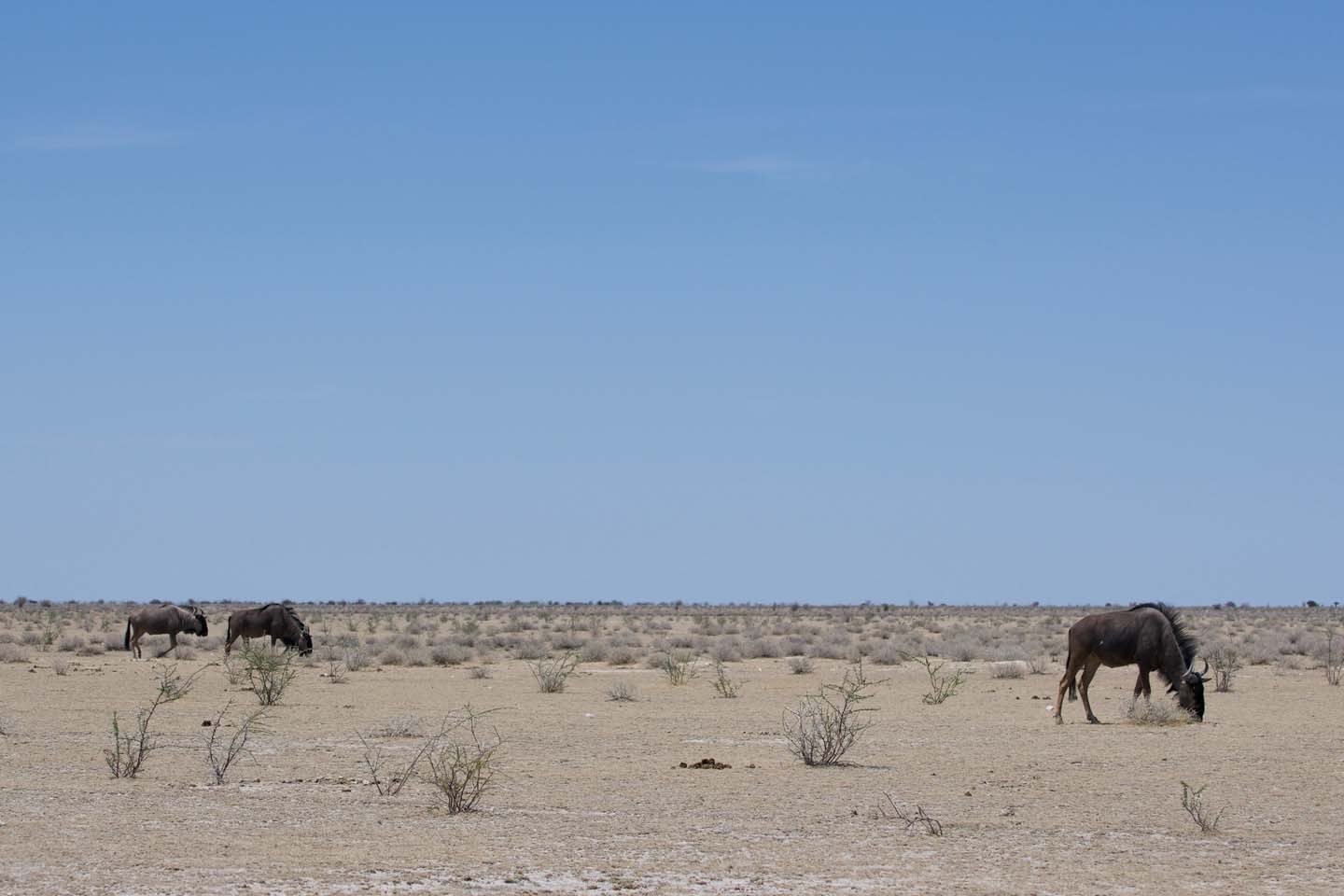 Gnus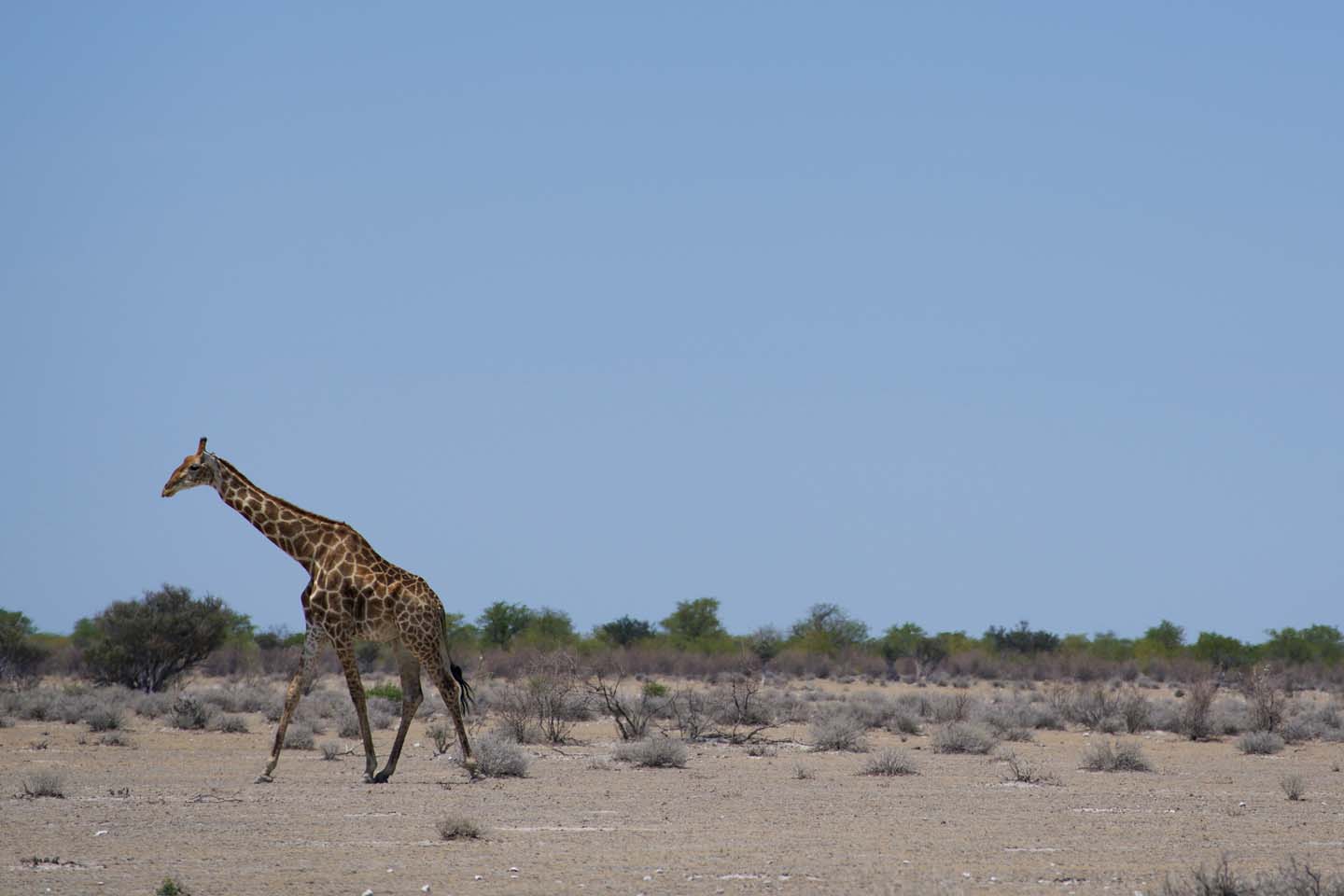 Giraffe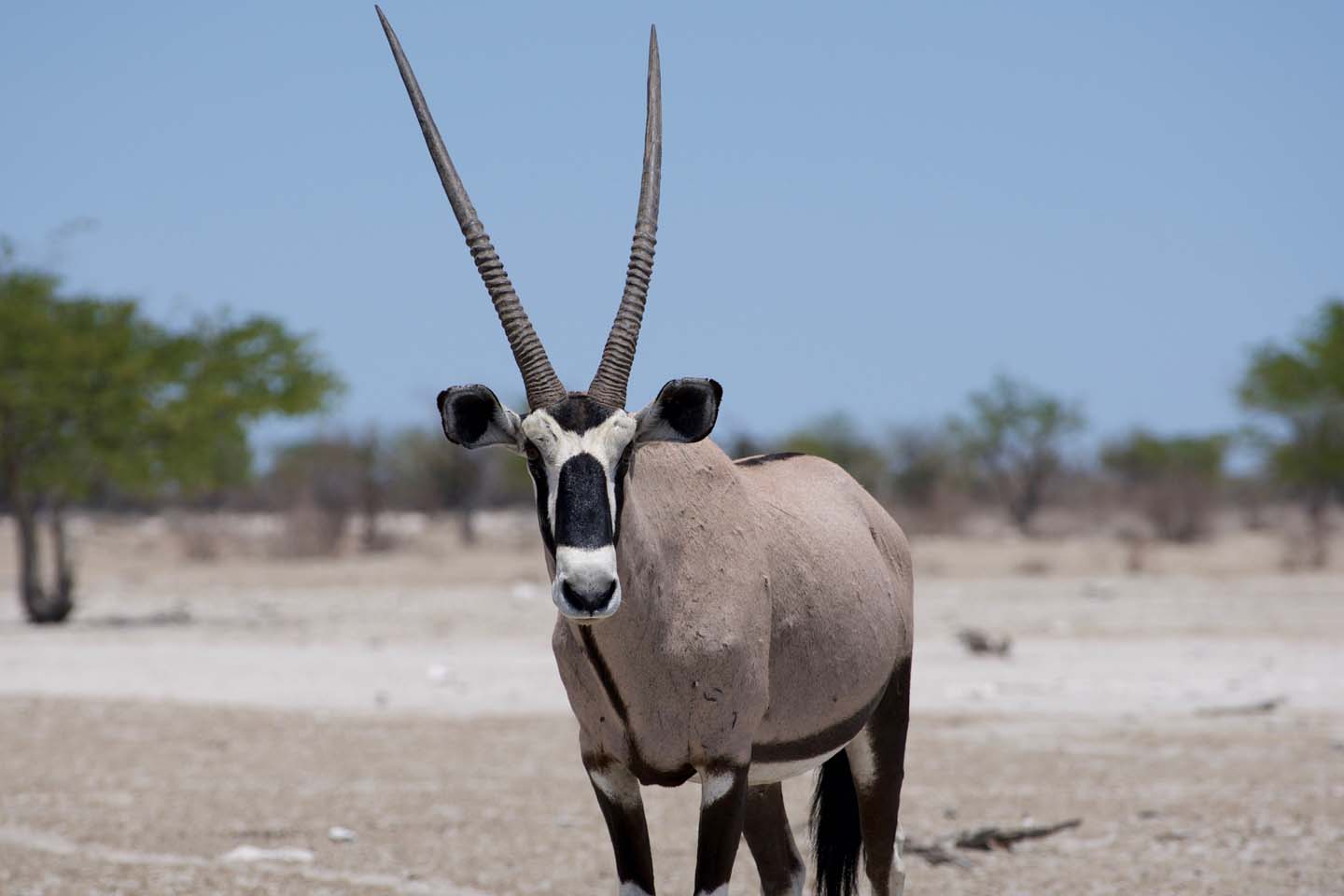 Oryx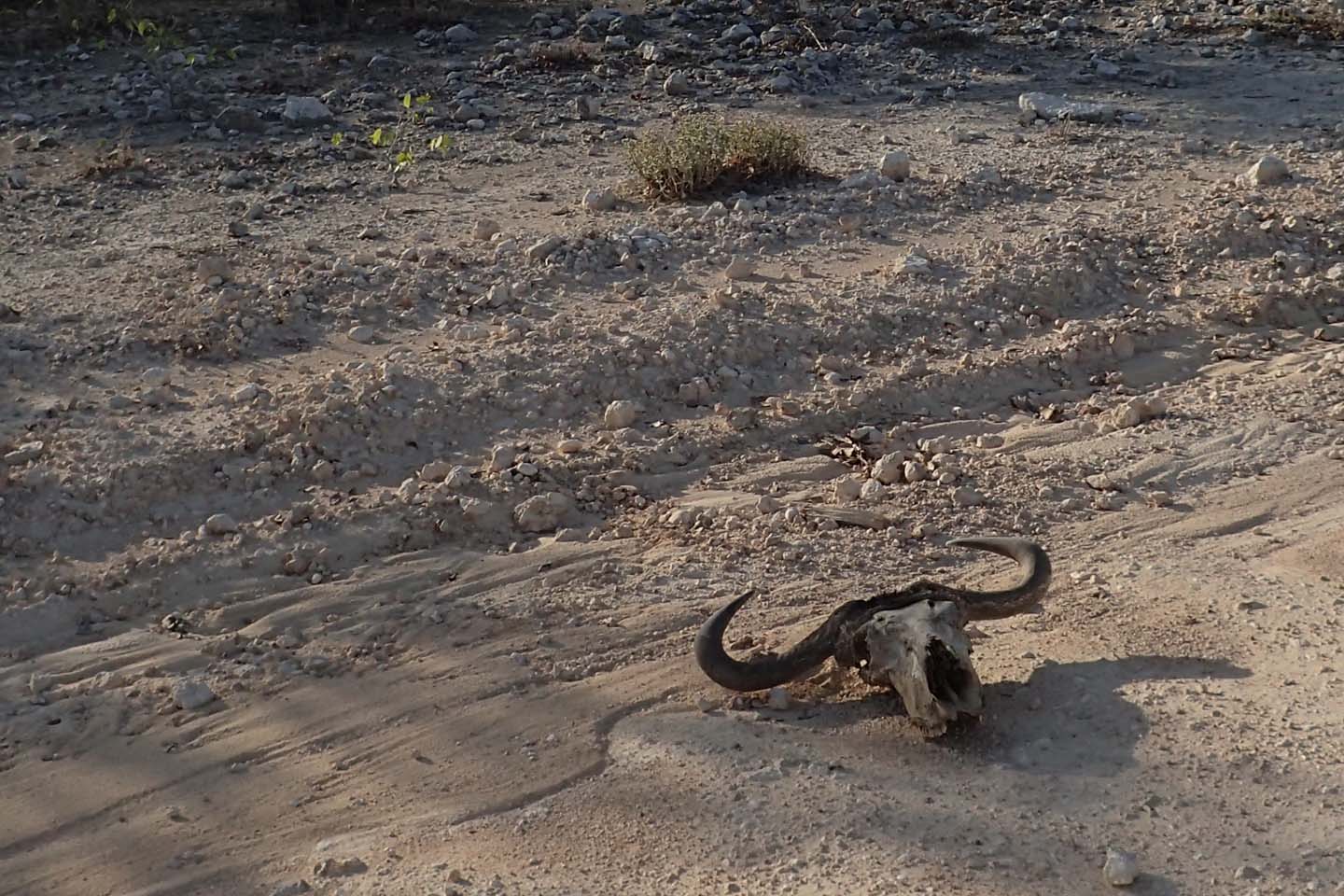 Skull of gnu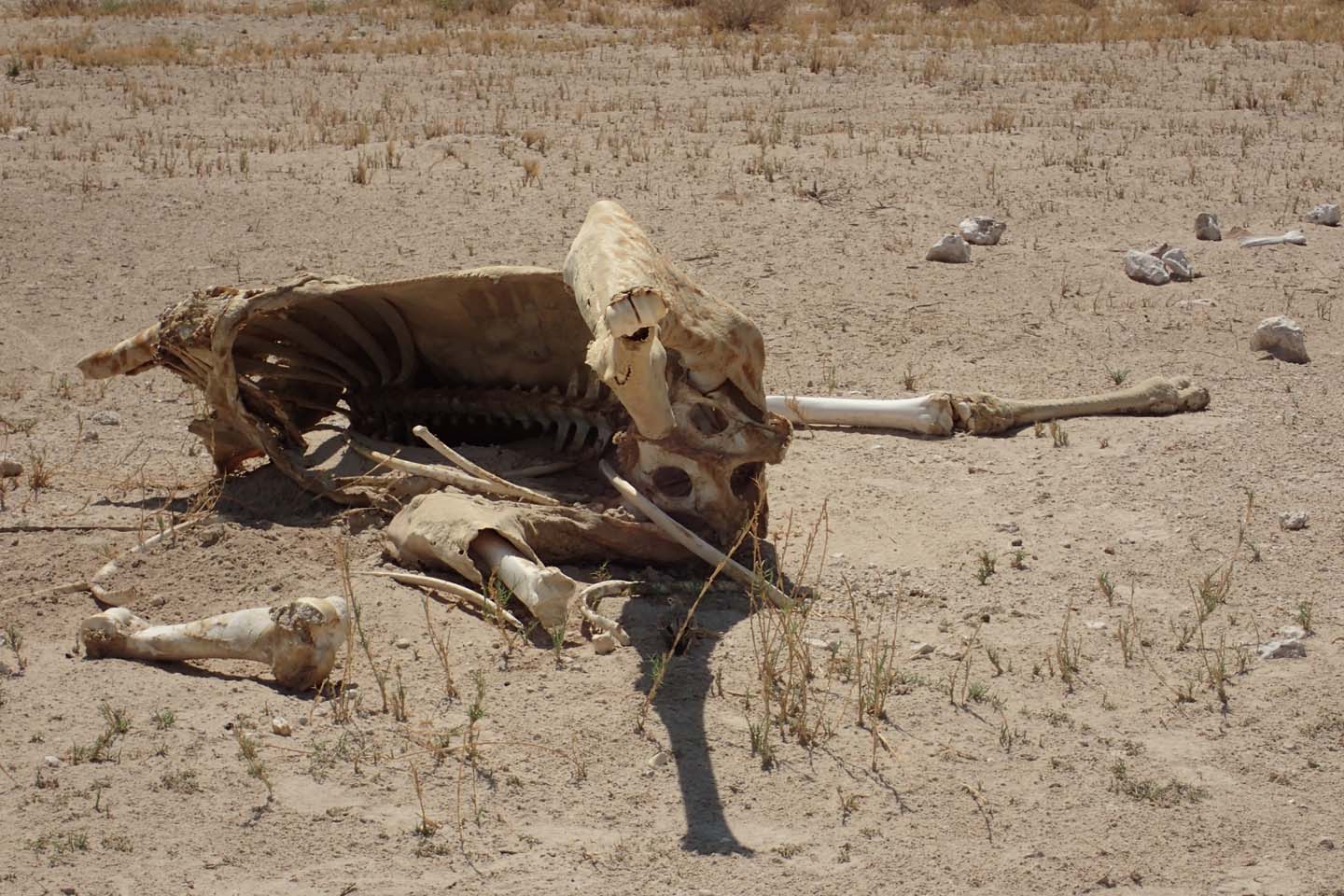 Bones and skin of giraffe
After the driving in the west area, there was one last surprise before leaving from Etosha National Park. On the way between Okaukuejo campsite and Anderson's gate, there was a male lion laying down underneath a tree! The lion headed up for few seconds and went back to sleep for the rest of time when we were there. However we finally saw a big carnivore animal. It was a great surprise and highlight at the end of 3 days in Etosha National Park.
The following is the summary of the animals we saw in the day.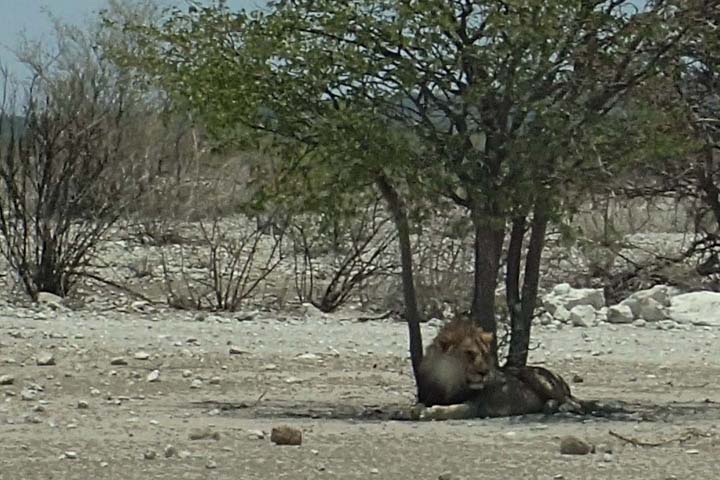 Male Lion
an adult male lion!
white rhinos, one running on savanna and one standing in the forest
a big white bird
a group of helmeted guinea fowl
several squirrels finding food and jumping around a hole
few ostriches on savanna
a giraffe walking on savanna
few gnus
a pair of oryxes
a number of zebras
a giraffe skeleton still with skin
a skull of gnu
Information
National Park
Etosha National Park
Park fee (Foreigner): 80 NAD / person / day plus 10 NAD / day / vehicle (fit 1 to 10 persons)
Notes
Children under the age of 16 are free of charge.
Park fees are payable at Okaukuejo and Namutoni only (not at Halali Resort)
Getting out of cars was not allowed during self-drive safari
Security check at gate
As self-drive safari is one of the characteristics of Etosha National Park, a thorough security check was conducted at the gate for each vehicle to ensure no weapons or anything were carried into the park that could bring potential threats to the animals, people and the park overall. The security guards inquired us, differentiated our bags and a guy checked one bag while a lady checked the other. They also checked our passports and reservation record at the campsite.
Our viewpoints
The north side had more mixture of open fields and forests so relatively we observed more wildlife.
Some animals seemed used to cars. Thus if the car speed was slow, there were more chances to see wild animals and even got very close to observe them.
Proactively exchanging information with other tourists increases the chances to see rare animals.
Accommodation
Halali Resort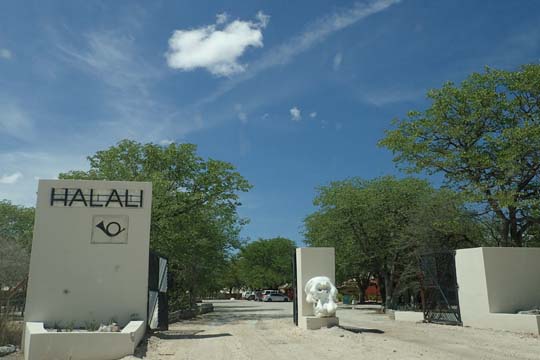 Gate of Halali Campsite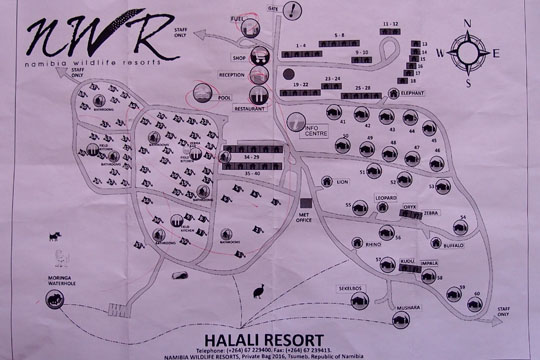 Map of Halali Campsite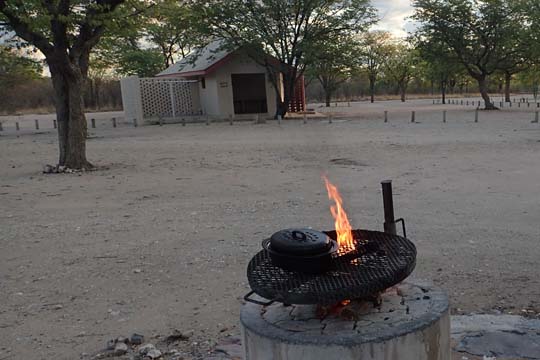 Halali Campsite
Price: 150 NAD / person plus 250 NAD / site
* We paid 550 NAD for 2 people per night (150 * 2 + 250 = 550)
The opening and closing times of the gate were dependent on the sunrise and sunset times. A big clock at the gate indicated the times for each day. Driving in the park was not permitted between sunset and sunrise. The reception provided information and maps of the Resort. The Resort also provided Game Drive activities.
The resort had both chalets and campsites, and the size of each campsite varies but it was big enough to fit both a tent and car. The following is the list of facilities available at the campsite.
stove
water faucet for cooking
a stone table and chairs *not all sites
shower/ bathroom (fairly clean and the lights were on all night)

*several in the campsite

building area for washing and hanging clothing
a gas station (rate was fair comparing to other places outside of the Park)

*right next to the gate

a shop (many of camping basics and food were available) *next to the reception
information center
a pool
Refer to the website of Etosha National Park for further information.
Food / Restaurant
Halali Resort Restaurant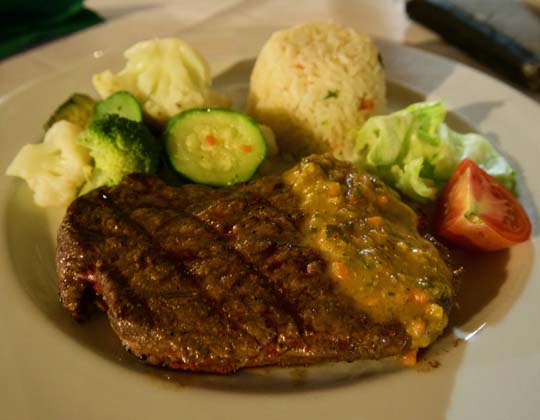 Impala Steak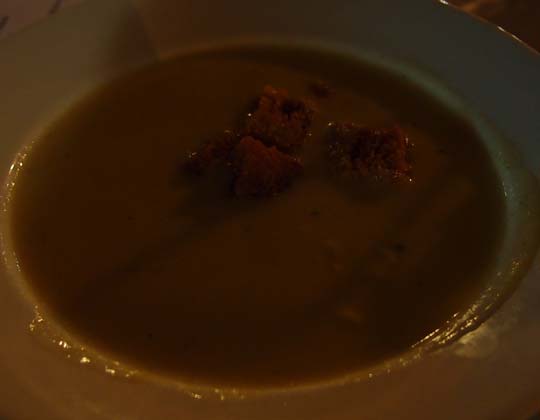 Soup of the Day – Creamy soup
Price: 221 NAD for an impala steak and cream soup (135+55+15%VAT)
There were both indoor and outdoor sitting areas. One person was required to order at least one dish or meal. The staff was nice and the food tasted okay.
There was also a bar and shop in the Resort.