After visiting the greatest water falls in African continent, we moved to the next country for a safari which was known for its low price and high quality.
From Victoria Falls, Zimbabwe to Kasane, Botswana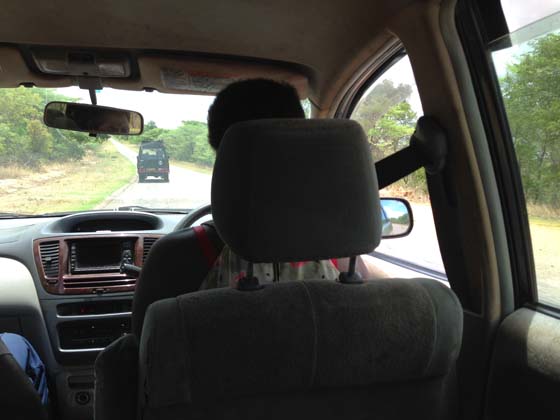 View from the back seat of taxi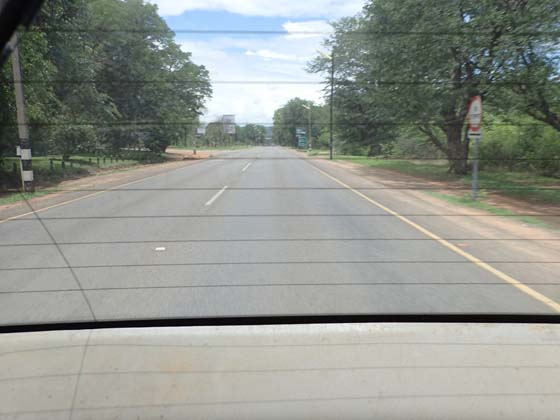 On the way to the border to Botswana
We left from Shoestrings Backpackers with our luggage around 12pm, and the driver stopped by the gas station in the town before heading to a border to Botswana. On the way, the driver picked up a military guy who was hitchhiking without asking us whether we were okay to share the taxi. According to the driver, it was not unusual for local people to offer a free ride to military people. Actually we saw a lot of military people who thumbed up for a ride on the way. The road to the border was entirely paved from the beginning to the end but there were no other towns or villages. The road was surrounded by greens and made us feel taking a safari tour although we saw no animals. However, according to the driver, she sometimes saw wild animals beside the road.
While we were getting closer to the border, a few policemen gathering under a tree shadow asked our driver to pull over. They all spoke local language so we could not figure out what happened. Later the driver told us that she would be fined for US$20 as her car was not registered as a commercial car (no yellow plate). Interestingly, the policemen still let her go to send us all the way to the border. We were lucky not being left behind in the middle of nowhere after the pullover.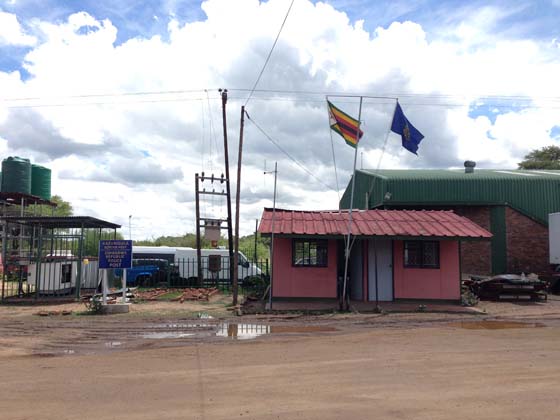 Zimbabwe custom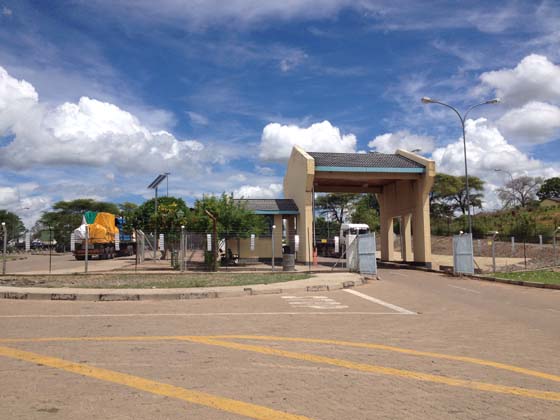 Botswana custom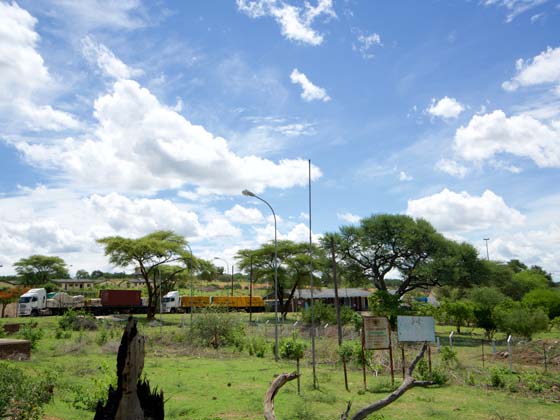 In front of the Botswana custom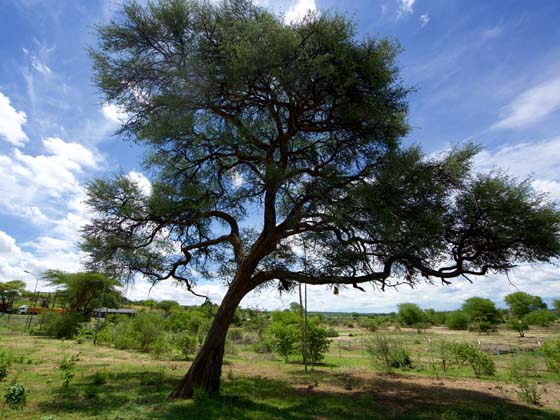 In front of the Botswana custom
We arrived at the Zimbabwe custom office around 1:30pm and got our passports stamped very quickly. Then we had to walk about 10 min between the customs of the two countries under the strong sunlight and high temperature. Like passing the Zimbabwe custom, we passed the Botswana custom quickly. The officer at Botswana custom was very friendly and also chatted with us using some simple Japanese. The officer told us that there were usually some taxis outside of the custom to go to Kasane. However, there were no taxis waiting outside of the custom office when we entered into Botswana around 1:50pm. We stayed there for a while and an office lady came out to check if we were okay. She mentioned that there was quite a distance to Kasane and walking to Kasane was not an option because there might be wild animals including lions. Fortunately, two Zimbabwean also came to Botswana for work. They called for a taxi and offered us a share ride to Kasane.
Kasane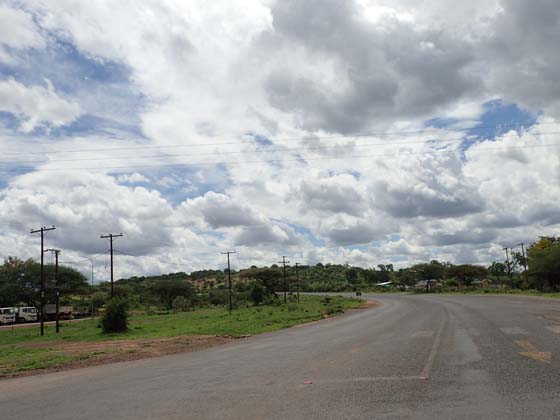 Road to Kasane near the border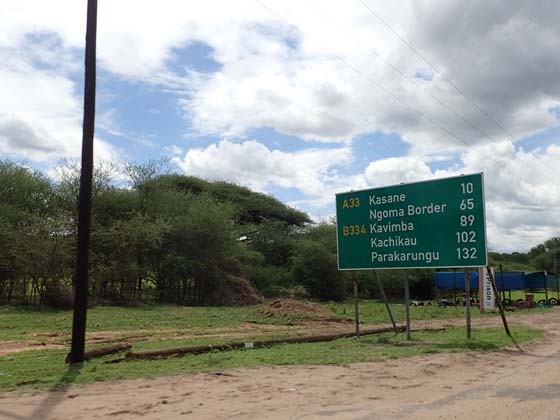 First sign after border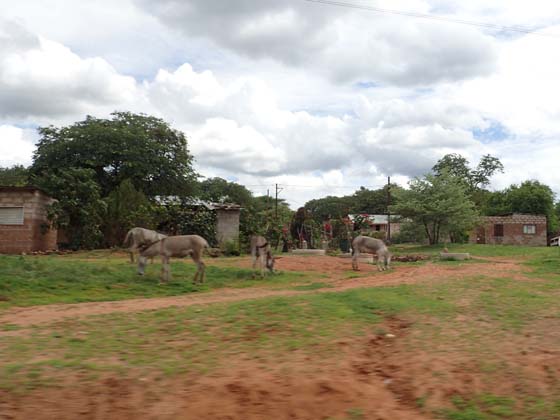 View from the taxi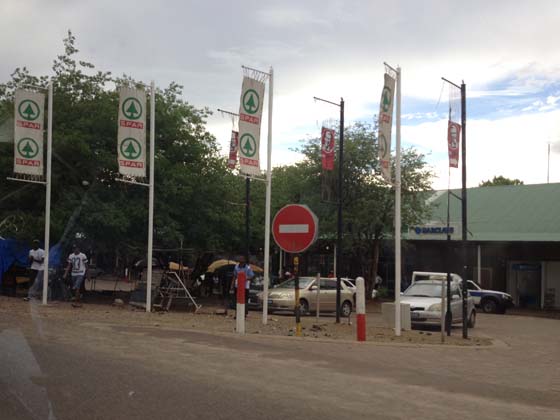 Entrance to the shopping area
After 15-minute taxi ride, we arrived at Kasane where there were a lot of stores and restaurants. Also, there were a lot of people, mixed of local people and tourists (mainly European families). The taxi driver dropped us off near a main area with a large supermarket, some restaurants, stores and banks. We grabbed lunch at a restaurant across the KFC, the first fast food chain we saw in Africa, and then walked around in this area. Due to many tourists here, the food at restaurant was expensive. It took more than 40 min for dishes to be served to our table, and the taste of food was not good for its relatively high price.
After having lunch, we started checking the prices of tours in Chobe National Park as well as obtaining information about the park because there were some tour companies close to the restaurant. A staff at the tour company in front of the restaurant was extremely helpful. He not only shared some information about the Park with us but also helped us to get a taxi to take us to a few stores to buy tents and sleeping bags which were required to stay at the cheap campsite of Chobe Safari Lodge. The driver was a nice guy and helped us to find the equipment by driving us to a couple of stores. Although the tent was used and one of the poles was broken, it was good enough for our temporary use during this trip.
The driver had a Japanese car with a monitor for music and navigation system. Since the monitor showed Japanese only, he asked us to figure out how to use the navigation system. Unfortunately, the navigation system had information about Japan only, not Botswana. We could not really help but at least figured out the car did not have the function he wanted. He then drove us to Chobe Safari Lodge around 4pm.
At the lodge, a receptionist originally told us that there were no campsites available, but luckily she later found one available spot for us for 2 nights. We quickly set up our tent at our assigned spot and went to the tour office in the hotel lobby before it closed at 6pm.
Information
Accommodation
Chobe Safari Lodge
Please see the post, Inexpensive Safaris in Chobe National Park and Gorgeous Lodge with tight budget, for the detail.
Transportation
Taxi in Botswana
From Shoestrings Backpackers to the border between Zimbabwe and Botswana
This ride was provided by the same driver who drove us to Victoria Falls National Park after we mentioned to her that we planned to go to Botswana.
Ride Time: 1 hour
Price: US$50 / ride
Kasane for buying camping equipment and from Kasane to Chobe Safari Lodge
This ride was arranged by a staff at a tour office in the shopping area in Kasane.
Ride Time: 10 minutes from Kasane to Chobe Safari Lodge
Price: 100 BWP / ride
Food / Restaurants
Shopping area in Kasane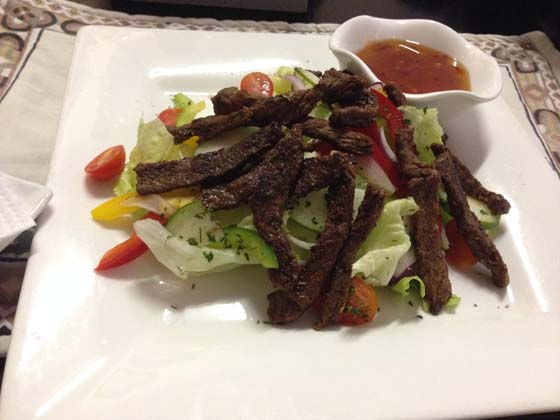 Salad with beef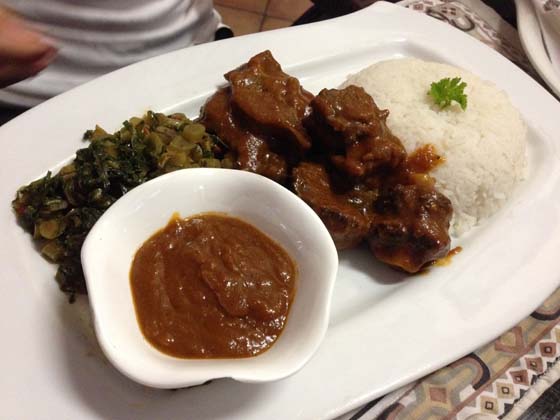 Oxtail stew
There were one KFC (the first food chain store we saw in Africa) and a local restaurant in the shopping area. The prices at the local restaurant in Kasane were relatively high. We ordered two plates for about US$13 in total. Taste was not bad but it took really long time to serve the food.